Meet the Inventor of the Wonder-Roll
The Wonder-Roll, like many innovations, was born of necessity.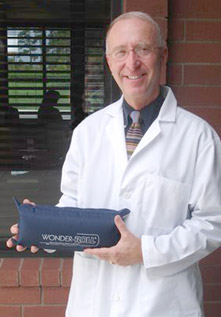 I'm a physical therapist and like many of you have suffered back pain for most of my life. Driving, flying, working at my desk, sitting in front of a computer, watching TV... any prolonged sitting caused me back and leg pain.
Medical research has made it clear that back pain associated with sitting can be dramatically relieved simply by providing adequate support to the low back. It seems that we human beings were designed to be up on our feet, not to spend our lives sitting.
But sitting is what we do, and that sitting has contributed to our suffering from back pain. A combination of poor seating design and poor posture (many of us tend to slouch) has conspired to increase our discomfort.
I've designed many products over the years to help relieve my own back pain. The self inflating lumbar roll, which I named the Wonder-Roll, is by far the best I've ever used. Thousands of patients and more than a few friends agree.
The Wonder-Roll solves 2 major problems with most back supports:
First, most supports have a fixed shape or density, but the amount of support needed to maintain the correct lumbar curve varies depending upon where you happen to be sitting. Hard-back chairs require less support than soft couches. So most supports work only some of the time.
Second, ease-of-use and portability. Ever see people lugging those big chair-style supports on airplanes and into their car?
The Wonder-Roll, by comparison, works anywhere with any chair or seating device. It's infinitely adjustable and so portable you can easily carry it in a purse, briefcase, or day-planner.
And it's so SIMPLE - no huffing and puffing, no bending of supports - just open the valve and it automatically inflates. Lean back and adjust the amount of support by opening and closing the valve.
Simple, portable, evidence-based medical intervention for back pain. And best yet, it's inexpensive - the Wonder-Roll "retrofits" any office chair, making it ergonomically correct for under $30.
Rick Shutes, Physical Therapist